Dead elephants and distribution of wealth.
Did anybody else watch the debates? The election is 19 months away and both parties have already had debates... For a historical perspective I'll ask this blog's oldest reader: Mom. Has the presidential campaign ever started this early? By the way mom, you look great for 80.
I hope the rest of America watched these debates (optimist + reality = misanthropist). They were pretty interesting because it's obviously too soon to narrow the field down much so the Dems. and Reps. had 8 and 10 master debaters respectively. Links to the full debates on youtube are at the end of the post. There are some veritable candidates you may not have heard of, also some candidates who are the political version of
William Hung
or
Sanjaya
. I'll let you decide which candidates those are...
In the Republican debate: It's interesting to me that many candidates tried hard to connect themselves with the image of Ronald Regan (
before he started hating on pancakes
). I guess they need a dead actor's endorsement because they can't win on their own name. Obviously, it is political suicide to support Bush part duex. For a number of possible reasons, none of them are seeking the approval of daddy Bush. So they all appeal to the constituency's fond memories of the last dead president. That's all fine and dandy Mr. Snufflufflagus, but it tells me nothing about your voting record, experience, and competency in general. Much in the style of Regan, they support tax cuts, with larger cuts for the wealthy. I was somewhat surprised to see the majority claiming support for a flat tax. Half of them want to get rid of the IRS when they push a flat tax through; that would be interesting (at least the theme parties following would be).How would a flat tax affect the people and the federal government ('cause let's face it in the words of Will Ferrell's Harry Caray "
when that thing burns out, we're all gonna be dead
")?
A flat tax would immediatly benefit those with highest incomes the most. It could largely restrict the budget of the federal government (would it restrict deficit spending? Is the glass full or empty?) At this point I'd like to call on the experts... no not mom again:
The most powerful force in the universe is compound interest
-Albert Einstein (dead science dude)

Ultimately, we are interested in the question of relative standards of living and economic well-being. Thus, we need also to examine trends in the distribution of wealth, which, more fundamentally than earnings or income, represents a measure of the ability of households to consume.
-Alan Greenspan (robot)
The simple point that we all know but often forget when talking about taxes and distribution of wealth: The rich (in wealth) make so much money from investments; they can just relax and listen to the sound of the wind in the trees, because to them that sounds a lot like their net worth growing. The Reagan tax cuts empowered many to enter this world, once you're there, barring catastrophe or "
rapper inspired
" money management, it's a life long membership. For the top 5 or 10% tax increases won't affect their ability to grow. In the perfect world we would tax net wealth on a time depreciating scale...but that's much easier said than done.
I think we'll see major tax reform become part of the presidential race. I hope one of the candidates I like will propose a tax plan that accompanies a flatter income tax with a sliding tax on profits from interest and investments. Let's face it, chances are slim to none you're going to make a million in the stock market unless you had 10 million to invest (especially now that the dot.com bubble has come and gone). Let's shoot for taxes that give the federal government power to eliminate the deficit/do their job while still giving up-and-comers their paycheck so that they can build wealth. This candidate also needs to bring up using that tax-reform to help balance the budget. Clinton got us on the right track, Bin Laden derailed us, and W. has exacerbated the problem.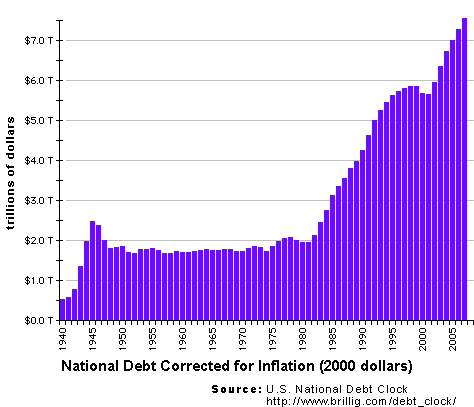 Here's my perfect candidate: tax reform-tax more based on wealth than income, balance budget - eliminate debt, supports Roe vs. Wade, education system improvement - against No Child Left Behind. I don't mention health care or Iraq; those fires will undoubtedly be fought by our next President, and I can see both sides of those issues.
Links
Census.gov
: just as a comparison to wealth distribution