Survival of the thinest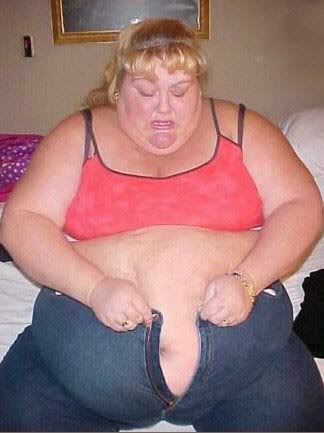 Just a factoid tonight:
I saw on ccn.com today that obese women may have a harder time getting pregnant (der), even if they are actually having sex (oh), and being fat gives you a whole other set of problems that may complicate pregnancy. There... I summed up in one sentence what they took 2 and half minutes to tell me.
Yes, I hate fat people. I don't believe I'm racist or sexist... at least I try hard not to be, and correct my behavior and thoughts when I notice discrepancy. However, I openly discriminate against the obese, especially the obese who claim it as a disability. If the government can pay for some fatty to be on disability, the government should just pay for the drugs to correct those hormone imbalances. Yeah, it can be a psychological too, I know. Obesity is a problem in 'Merica and I really don't understand what government thought making obesity a legal handicap would promote healthy eradication of the epidemic (I don't feel I've used that word errantly). I don't hate fat people I see at the gym. That 400 pound woman sweating her ass off on the treadmill? No, she's trying, that's cool, nothing but support here. It's the "I only own sweat pants" chick that you see at in the gas station that loads up on Cream-filled Cherry Delights by Mrs Freshley... or perhaps is sampling the palatable wares of Mrs. Freshley's cousin, Mr. I Make Products so Pumped with Preservatives They Hardly Require Packaging. These are the type people I think would make great human body shields... both due to their girth and the worth as a human. In case you're wondering, yes, I hate fat men as well, but I'm only talking about women because even skinny guys have a hard time getting pregnant.
Anyway back to cnn. This is fantastic news for me. First off, the chubbies aren't spawning effectively. Nature has decided to agree with me, that fat people are inferior individuals. Other good news, I can now coax drunk friends into super-sizing their evening because, "listen man, we all look the same in the dark, and dude, she's fat so she can't get pregnant." This could become a new fad for horny highschoolers, they'll call it "not making more bacon."